Goals
Inspire self-directed, sustained shifts towards more healthful lifestyles; instill the self-confidence to navigate challenging financial circumstances; and create the bandwidth to nourish aspirations and pursue newfound opportunities.

Our Personal Approach
Upon entering our programs, families consistently observe that they do not know how to design healthy, balanced meals. They also stress the magnitude of the financial challenges they face and the impact this has on their health.
Each Healthy Lifestyles Program consists of eight weekly, interactive sessions. Families experience hands-on learning about healthful eating habits, increase the breadth and balance of their meal plans, and gain working knowledge of effective stress-management and financial practices. By setting personalized goals each week, they achieve successes in many small steps. They discover that maintaining a healthy lifestyle need not cost more than the current eating habits they are striving to change. Personal experiences are shared and new habits are reinforced over weekly group dinners.
I never thought about an account for myself. I am going to open my own savings account next week, and start depositing $25 every month. I'm sure I can do this.
Soila
Program Participant
Impact
Each HLP begins with an entry- and ends with an exit-survey. After three months we follow up with a telephone survey inquiring about sustained changes in the participating families' lifestyles. These surveys show meaningful changes in behaviors, including:
increased consumption of a wider variety of fresh vegetables;
preparing healthier breakfasts and snacks for their children, while reducing consumption of refined sugars;
at least 75% have sustained more balanced meal plans, and they are experimenting with new recipes, including those shared in our program;
more frequent consumption of whole grains;
setting of financial goals with increased use of savings accounts.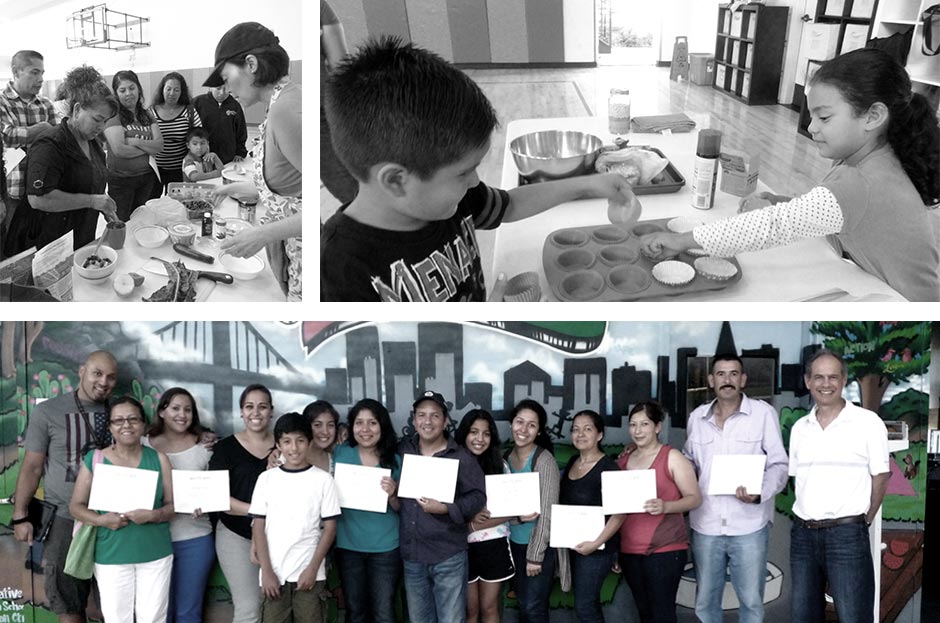 I have more energy now throughout the day. Our children prepare their own snacks and drinks, and it helps them stay healthy and learn well at school.
Rigo
Program Participant